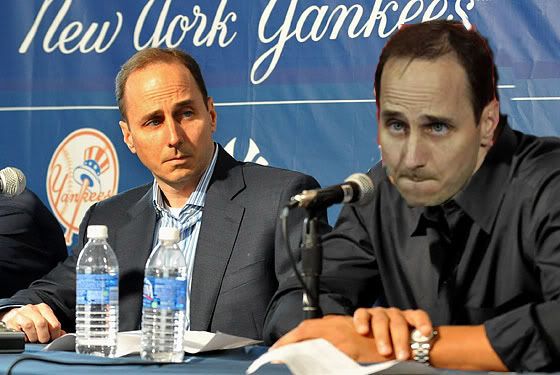 With the help of Cashman look a like Matthew Broderick, Yankee GM Brian Cashman fired himself at a press conference today.
Cashman said the move had nothing to do with poor decisions over the last few years, including the long term expensive contracts given to A-Rod, A.J. Burnett and Mark Teixeira and the acquisition of such over the hill, injury prone and talentless players such as Nick Johnson, Austin Kearns, Lance Berkman, Randy Winn, Chan Flo Park and Javier Vazquez. "It was time for a change, an opportunity came up to star in the new movie, The Diary Of A Wimpy Kid. It could be a blockbuster with several sequels." Also time was needed to bleach Brian's tongue which had been discolored an unflattering doody brown from the constant Steinbrenner family rim jobs that Brian had performed.
When Kimberly Jones asked about his savvy signing of Marcus Thames and Kerry Woods, Brian said
he was away at those times and that those deals were inked by a 19 year old Hunter College intern.