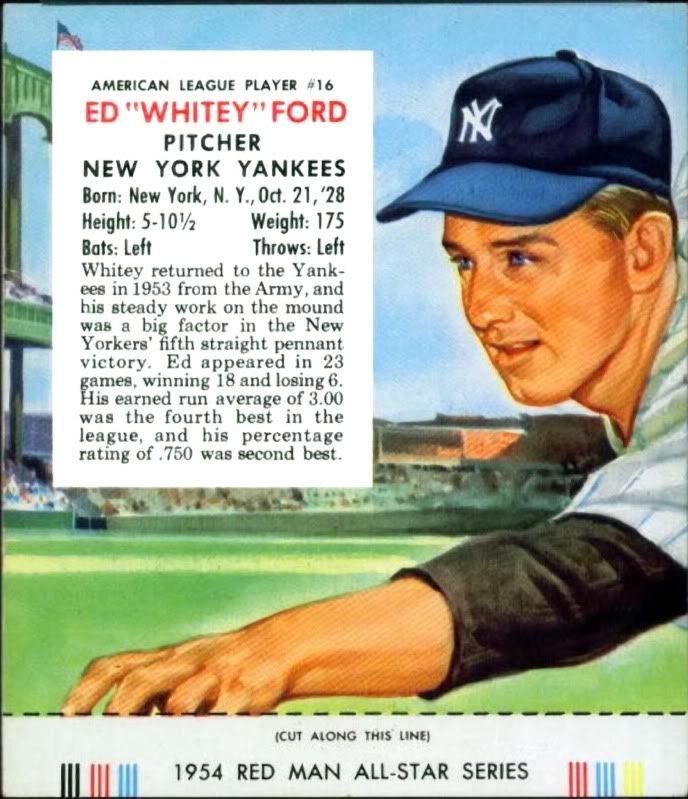 "Tell em Dali Baby"
Edward Charles "Whitey" Ford (born October 21, 1928 spent his entire 18-year career with the New York Yankees. He was voted into the Baseball Hall of Fame in 1974.
Ford was a native of the Astoria neighborhood of Queens, located in New York City just a few miles from Yankee Stadium over the Triborough Bridge. Ford was signed by the New York Yankees as an amateur free agent in 1947, and played his entire career in a Yankees uniform. He was given the nickname "Whitey" while in the minor leagues for his exceptionally blond hair. Ford graduated from Aviation High School in nearby Sunnyside, Queens.
Ford began his Major League Baseball career on July 1, 1950, with the Yankees and made a spectacular debut, winning his first nine decisions before losing a game in relief. Ford received a handful of lower-ballot Most Valuable Player votes despite throwing just 112 innings, and was voted the AL Rookie of the Year by the Sporting News. (Walt Dropo was the Rookie of Year choice of the BBWAA.)
Maybe Whitey should have started game 4. Joe wouldn't have told him to give an intentional walk to Murphy since Whitey had no prior record with him.