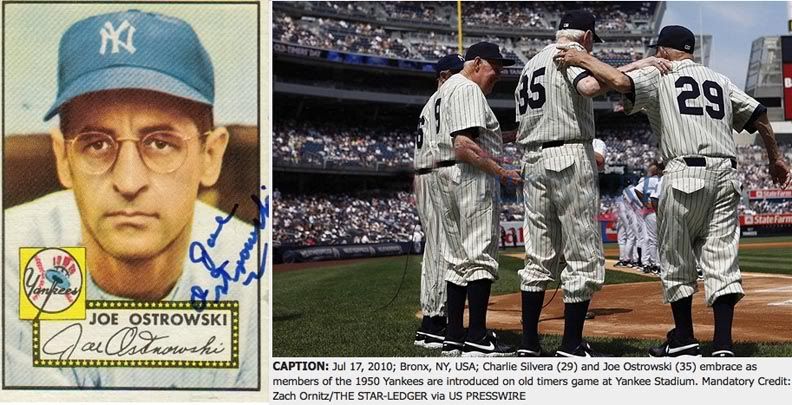 Is Joe Ostrowski dead or alive? He appears to be pictured above in the July 17, 2010 photo
yet he died in 2003.
Joe Ostrowski, who played with the St. Louis Browns, died Jan. 3, 2003, in Wilkes-Barre, Pa. He pitched in the Major Leagues for 5 seasons and finished with a 23-25 record and 15 saves. In 455.2 innings, he posted a 4.54 ERA and 131 strikeouts. In 1951, he was 6-4 with 5 saves for the Yankees. He pitched in 95.1 innings that season and finished with a 3.49 ERA. He pitched 2 scoreless innings in the Yankees' World Series victory.
He got his start in amateur baseball in 1934 and entered professional baseball in May 1941 with the Boston Red Sox. He played in the Eastern Short, Mid-Atlantic and Piedmont baseball leagues. In 1948, he was traded to the St. Louis Browns and, in 1950, he was sent to the New York Yankees. He pitched for the Yankees until 1952. After playing with the Los Angels Angels in 1953, he retired from baseball. He was inducted into the Pennsylvania Sports Hall of Fame in 1988.