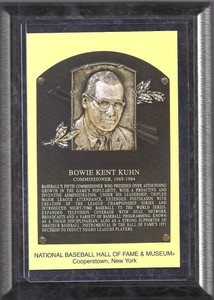 Yesterday, the Pooh Bahs of Humptytown - baseball's Hall of Fame executive committee - again screwed the late Marvin Miller, the union leader whose achievements still overshadow any owner or commissioner in the history of the game.
They did this, I guess, out of spite.
(After money, that's what they treasure most.)
The owners hate Miller because he stole the toy they inherited from their daddies: the National Pastime. Hey, wanna hear a joke? In 2007, they elected Bowie Kuhn to the Hall - and excluded Miller.
Bowie Kuhn!
Hey, that's worth a trip to Humptytown, eh? They've now kept out Miller for 10 years, even though they no longer have to fear what he would say from the podium.
Yesterday's move prompted the great Murray Chass to vault in from the Scooter Store
and write a story in today's Gray Lady.
Chass puts Miller up there with Babe Ruth and Jackie Robinson, the three most important men in baseball history. He says Miller became so fed up with Cooperstown crapola that he asked to never be inducted.
(For the record, I hereby request that I too NEVER be inducted into that cesspool of nepotistic hypocrisy.)
Which brings us to The Boss. You could argue that, after Marvin Miller, no other man advanced the players' financial interests more than Old George. Ask Bob Shirley, wherever he is! But I'm still not sure how to measure Steinbrenner. Nobody more celebrated a Yankee victory, but there were also the cruelties - those Yogi Berra and Bobby Meacham moments - I still dunno. But in my mind, George was the last true owner.
An owner has one job, dammit:
OWN!
He must be his city's affable, obese, tipsy, gray-haired, cigar-smoking, super-rich super fan. He should never poor mouth (as the current crop constantly does.) He should sit in his owner's box and do nothing but OWN! Old George cheered as hard as any of us. Old George lived and died with the Yankees.
When we were swept away by the Dodgers, and Old George punched out that elevator - that wasn't a foible. That was his greatest moment as an owner. Hell, it may have the greatest moment of any owner, anywhere. Dammit, he was OWNING.
And if any owner deserves to be in the Hall, it is Old George. Understand? Unlike the today's grubs, who use their teams to extort money from fans and taxpayers, George knew how to own.
But here's the rub:
No owner belongs in the Hall. Certainly not while Marvin Miller remains on the outside.
And if Miller's last wishes are to be fulfilled, he'll stay out. And so should Old George.