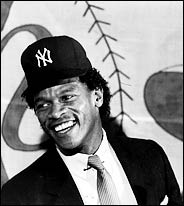 I keep having this sick, spidery sense that I'll wake up tomorrow to find the Gammonites rejoicing and the tabloids sprouting rainbow typeface, and learn the Yankees just obtained Troy Tulowitzki.
Since the dawn of time, this has been prophesied.
It was always fated to happen... like Ebola, Taylor Swift and pumpkin beer.
Right now, a trade for Tulo is mere blogger blather. Then again, so is the notion that Hal Steinbrenner would simply chase Chase Headley and Chris Capuano, and recreate the magical 2014 Yankees, without Jeter's farewell tour. If Hal is - as I believe - the reincarnated spirit of his dad, then he must relive Old George's mistakes, perhaps at an accelerated rate. Thus, before things improve, we shall endureth a long, Stygian darkness.
I tell you,
Rickey
is coming...
Old George loved Rickey Henderson - that is, until he spent five years with him. In 1985, the Yankees emptied their system - Tim Birtsas, Jay Howell, Stan Javier, Eric Plunk and Jose Rijo
(the jewel)
- for Rickey.
In his NYC period, Henderson hit 78 HRs and stole 326 bases. But the team sucked, and George pitched him back to Oakland for three factory misprints, including Plunk and Luis "Hands Off the Babysitter" Polonia. Five years of crapola... Ron Kittle... Claudell Washington... Wayne Tolleson... But at least we owned the back pages.
Now, the Colorado Doobies are sniffing for suitors, pretending they'd never trade such a beloved icon as Tulo, even though he's 30, with a bad hip and is owed a ton of the state's best Rocky Mountain High. Tulo has always loved NY, and Hal seems enamored of him. If we empty the system - a Bird, a Judge, a Severino and maybe four Dante Bichette Jr.s - we can get it done.
The five-year dark period, I mean.
That's what we would be getting done.
Clearly, Hal is his dad's acorn. From Gooden to Clemens to the Big Unit to A-Rod, Old George always got whatever player he coveted lately. Hal is closer to the front office lug nuts, as evidenced by their seeming lifetime job security. But self-indulgence remains as much a Steinbrenner trait as the family's billions. Trading for Tulo would generate applause from the media courtiers, who really don't care if the Yankees win. They just want the circus back in town.
Obviously, I am a paranoid delusional. I am the homeless guy on the street, waving the sign.
But I tell you, it's coming...
Mark these words: The Snatch Catch will return.