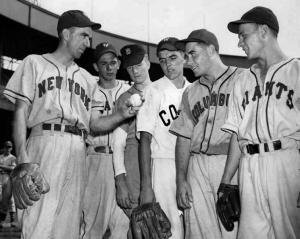 Dear Madam or Sir,
Now that MLB has implemented a secret payroll salary cap, via luxury taxes, we can expect the World Series to regularly feature teams from backwater locations, towns too small to have gangland warfare or shopping riots.
When Kansas City plays San Francisco, will the megalopolites care enough to watch?
Baseball needs a gimmick, a device that will make the World Series exciting to all fans, especially those whose teams have turned to crapola because their heir owners can't decide how to spend all their money, so they surround themselves with cronies, who keep their jobs year after year, even though their farm system only churns out Slade Heathcotts and Zolio Almontes. Those fans. Whoever they are.
Here's how you do it.
Award the league that wins the World Series home field advantage in next season's All-Star game.
Think about it. Have two cities in line for next year's midsummer classic. Thus, their fan bases will root, root, root for their league, hoping to host the All-Star Game. Considering that the winner of the All-Star game wins home field advantage for its league in the series, it's a perfect loop.
Save the Series.
Make it count.