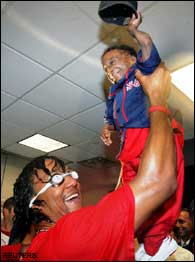 Luis Severino - the newest incarnation of that long-awaited "Yankee Pedro," the undersized pitcher with the over-sized arm - debuts tonight. Is it coincidence that he'll start against Boston? We might as well buy the kid a dwarf.
For years, we expected Manny Banuelos to be our "Pedro." Then came Tommy John surgery, the slow recovery, and then Manny was sent to Atlanta, where he's currently doing OK. But he's not the Braves' Pedro.
It might just be that the Yankees never know their own version of a Pedro Martinez, and that comparing untested young pitchers to Hall of Famers - especially ones whose memory is as volatile ours is of Pedro - is not a good idea.
But at least for the next several hours, we have a rare opportunity to sit around, clip coupons and imagine a "Yankee Pedro." Wow. What a concept.