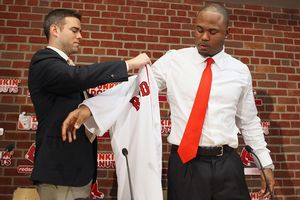 Over the weekend, the Los Angeles Mattinglys activated Carl "The Perfect Storm" Crawford from the DL, where he's been parked since late May. He's now riding the pines. He's going to sit until someone gets hurt, or retirement, or doomsday, or whichever comes first.
The Dodgers are paying him $20 million per. This is Year IV of a seven-year deal, originally cobbled together by the Redsock puppet master, Theo Epstein, himself. When The Perfect Storm twisted his ankle, The Perfect Storm was hitting .261 with 4 HRs - which are Ruthian numbers, were he a Yankee.
Obviously, we don't need The Perfect Storm. Clearly, we don't need another OF. Frankly, there is no metric in creation that can justify adding yet another old and declining, clown-faced pug to the Yankee roster. It would make absolutely no sense, and it would defy every long-term building strategy in Hal Steinbrenner's bottomless tank of putrid decisions.
So why, why, WHY... do we not doubt Crawford's future pinstripes destination? Of course, the Yankees will bite! OF COURSE THEY WILL! You think Hal won't imagine The Perfect Storm hitting 60 home runs in Yankee Stadium and leading the team to glory?
Besides, come August, nobody - not you, not me, nobody - is going to turn on the YES Network to watch Kyle Roller, Taylor Dugas and Jose Pirela. The not-perfect storm. Nope. Carl Crawford would provide a brief ratings blip - maybe a week of fan base hope, mixed with curiosity - and around that time, the Murdoch-owned network will be screaming at Hal to provide something, anything, that secures some attention, until Jeter's retirement can launch the final pageantry. (God help YES if Jeet turns an ankle and misses the last month.) Oh, the blogger side of the Yankiverse would scream and holler about the horror of such a move... but you know what? That's just
more
attention. Come August, the only true fear faced by the Yankee brass is that nobody -
not you, not me, not nobody
- will give a damn.
Good grief. How did I become so jaded about this team?