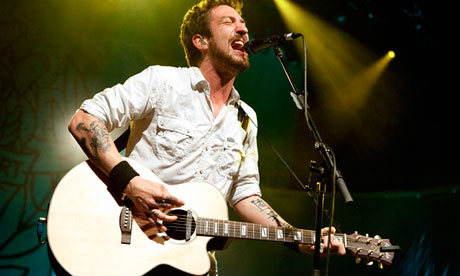 "Well it's been a few hours drinking,
"So I'm gonna say what everyone's thinking,
"If we're stuck on this ship and it's sinking,
"Then we might as well have a parade..."
I cannot tell a lie. I missed last night's Yankee debacle, choosing instead to drive the Thomas Dewey Wormhole to a meadow outside Cooperstown to see one of my all-time rock heroes, Frank Turner, play in front of a huge crowd behind the Ommegang Brewery.
If you have never heard of Frank Turner, that's OK. He is a Brit, still catching on in the colonies, doing it one fan at a time. In a previous incarnation, he fronted an angry, wild, bombastic, hard-edged punk band called Million Dead. Then he jumped ship. He switched acoustic folk music with angry, wild, bombastic, hard-edged lyrics - sort of folk-punk, a mix of Neil Young and Henry Rollins. He played at the 2012 London Olympics, but Bob Costas didn't get the memo. Last year, he did Wembley, and it was a sell-out. For my money -
and I am choosing my words carefully here
- Frank Turner is Second Coming of Bruce. In my life, I have never said that about anybody.
(Disclaimer: I did like Tommy Tutone for a while, but I never compared him to Bruce.)
Don't know Frank Turner?
Go here.
Go
here
. Go
here
. And if you ever get a chance to see this guy, don't miss out. He will save your soul. Last night, he saved me from the Yankees.